Gator Hush Puppies $9
Louisiana gator battered & fried w/ house-smoked bacon then served w/ a spiced remoulade sauce.
Boudin Balls $9
House-made boudin sausage, balled, fried, & served w/ pickles & house-made remoulade.
Andouille Sausage Sandwich  $11
 A spicy, but not too Spicy; but don't get me wrong, it IS spicy Andouille Sausage. It comes split, served on french bread & dressed w/ lettuce, tomato, pickles & mayo to put out that fire.
Boudin Link w/ Red Beans & Rice $16
This is like Cajun cheese & crackers except there are no cheese or crackers in this dish. Cut the sausage open & scoop the filling onto the pig skins & give it a dash of hot sauce.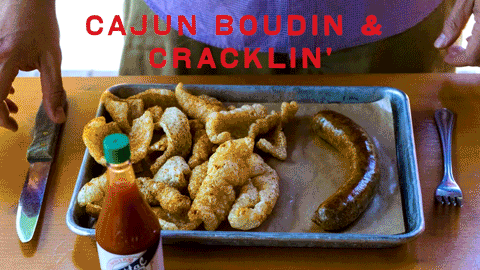 Fried Shrimp Po' Boy  $16
The only thing "Po" about this sandwich is the name! Cajun fried shrimp served on authentic French Bread flown in from New Orleans. It comes "dressed" w/ house-made remoulade, lettuce, tomatoes & hot sauce vinaigrette.
Crawfish & Sausage Gumbo $14
Crawfish? Crawdads? Crayfish? Mud Bugs? Whatever you call 'em, we got 'em and they're delish! They're added to our house-made, Banger Red Rue™ & then we thicken the plot w/ Okra & Sassafras Filé. Finally, we add some spicy house-made Andouille & serve it w/ a scoop of white rice. The Rue, The Rue, The Rue is on FIRE, and so is this gumbo!
Beignets $6
Warm, fluffy pillows of dough, fried to order, drizzled w/ cane syrup & dusted with powdered sugar. This ain't Cafe du Monde, so if you need some extra snow for that dough; just let us know.
79:
4. Real Ale Cease & Desisyphus (2017) – 11.3%, $12.00 (9oz): A rich, booze-y Barleywine that's been aged in rum barrels for 4 months. Expect complex flavors of caramel, toffee, molasses and an orangey vanilla.
5. Martin House King of King's Cake – 10%, $ (still waiting on pricing): This is a sweet, Imperial Blonde with notes of buttercream and frosting. It almost has a fried funnel cake/powdered sugar thing happening. It's rad. Yes, there is lactose.
27. Abita Strawberry Lager – 4.2%, $6.00 (+L): The juice of red, ripe Louisiana strawberries, harvested at the peak of the season, gives this crisp lager its strawberry flavor, aroma and haze.
72. Avery Tweak (2017) – 17.5%, $12.50 (5oz): An insanely high alcohol Imperial Stout aged in bourbon barrels with and even more insane amount of coffee added. Buckle up.
73. Firestone Walker Parabola (2021) – 13.6%, $7.50 (5oz): An Imperial Stout that was matured in equal thirds bourbon, rye whiskey and wheated whiskey, then blended together. An impressive way to add depth and complexity to a barrel-aged stout without sacrificing abv.
90. Martin House Colombiana (2022) – 12.5%, $8.00 (9oz): Rum barrel-aged Imperial Stout with cherries and coconut. gives you a chocolate pina colada vibe without the tiny umbrella.
81.5:
140. Abita Purple Haze – 4.2%, $6.00 (+L): Clouds of real raspberries swirl in this tart and tantalizing lager inspired by the good spirits and dark mysteries of New Orleans.
166. Epic Big Bad Baptist in the Rye (2021) – 11.5%, $10.00 (9oz): Rye whiskey aged Imperial Stout with cocoa nibs and coffee added.
175. Stone Farking Wheaton w00tstout (2021) – 11.5%, $10.00 (9oz): A collaboration with some internet nerds, Drew Curtis & Wil Wheaton, this Imperial Stout is brewed with both rye & wheat as well as pecans before being aged in bourbon barrels.
177. Founders Kentucky Breakfast Stout (2019) – 12%, $11.00 (9oz): KBS is a big Imperial Stout brewed with a massive amount of coffee and chocolate and then bourbon barrel-aged to perfection. Incredibly silky and full-bodied with notes of vanilla, cocoa, roasted coffee and charred oak.
183. Odell Friek (2021) – 6.9%, $10.00 (9oz): Extremely complex sour ale that blends a Kriek (cherry sour) and a Framboise (raspberry sour).
Friday 2/10
11AM - 2PM - The Numbers
3PM- 6PM - Jimmie Dreams
7PM - 10PM - Chansons et Soulards
Saturday 2/11
12PM - 2PM Austin Cajun Aces
3PM - 6PM Chansons et Soulards
7PM - 9:30PM The Numbers
Sunday 2/12 
10AM - 1PM Lexi Weege & JJ Slater
2PM - 5PM Jean Pierre & The Zydeco Angels