Boudin Balls 
House-made boudin sausage, balled, fried, & served w/ pickles & house-made remoulade.
Andouille Sausage Sandwich  
A spicy, but not too Spicy; but don't get me wrong, it IS spicy Andouille Sausage. It comes split, served on french bread & dressed w/ lettuce, tomato, pickles & mayo to put out that fire.
Boudin Link w/ Red Beans & Rice
This is like Cajun cheese & crackers except there are no cheese or crackers in this dish. Cut the sausage open & scoop the filling onto the pig skins & give it a dash of hot sauce.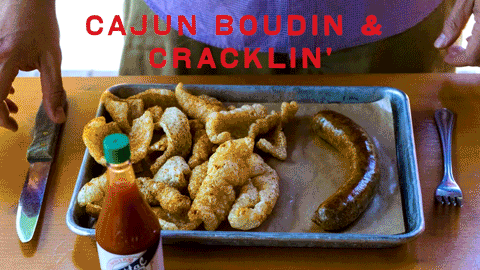 Fried shrimp Po' Boy
The only thing "Po" about this sandwich is the name! Cajun fried shrimp served on authentic French Bread flown in from New Orleans. It comes "dressed" w/ house-made remoulade, lettuce, tomatoes & hot sauce vinaigrette.
Crawfish & Sausage Gumbo 
Crawfish? Crawdads? Crayfish? Mud Bugs? Whatever you call 'em, we got 'em and they're delish! They're added to our house-made, Banger Red Rue™ & then we thicken the plot w/ Okra & Sassafras Filé. Finally, we add some spicy house-made Andouille & serve it w/ a scoop of white rice. The Rue, The Rue, The Rue is on FIRE, and so is this gumbo!
Beignets
Warm, fluffy pillows of dough, fried to order, drizzled w/ cane syrup & dusted with powdered sugar. This ain't Cafe du Monde, so if you need some extra snow for that dough; just let us know.
111. Avery Brewing Co. - Uncle Jacob's Stout (2016)
Imperial Stout - 17.1% ABV - Boulder, CO
Every bit as robust as it is incredibly boozy. The bourbon barrel provides a punch to the mouth that you see coming a mile away yet somehow can't avoid.
$12.00 (5oz)
6. Avery Brewing Co. - 25th Anniversary Ale (2018)
Dark Ale - 14.5% ABV - Boulder, CO
Belgian-style dark ale brewed with honey, dates and golden raisins, aged in oak barrels. Incredibly complex blend of dark fruit, rich vanilla and black licorice flavors.
$7.50 (5oz)
1. Alesmith Brewing Co - Barrel-Aged Vietnamese Speedway Stout (2021)
Imperial Stout - 14% ABV - San Diego, CA
Silky smooth Imperial Stout brewed with a complex blend of four different varieties of Vietnamese coffee beans aged in bourbon barrels for up to 1 year.
$8.50 (5oz)
2. Firestone Walker - Napa Parabola (2019)
Imperial Stout - 14% ABV - Paso Robles, CA
A Russian Imperial Stout matured in French oak wine barrels from one of Napa Valley's most prestigious cult wineries.
$7.00 (5oz)
4. Real Ale Brewing Co. - Tenebra Aeterna (2018)
Sour Porter - 7.9% ABV - Blanco, TX
This barrel-aged sour Porter is marked by notes of dark, sour fruit and a tantalizing character of subtle roast and cocoa. Latin for "eternal darkness, it brings a shadow of dark malt into the realm of sour beers.
$11.50 (9oz)
5. Ballast Point - High West Victory at Sea (2018)
Imperial Stout - 7.9% ABV - San Diego, CA

An Imperial Porter with cold-steeped coffee and vanilla aged in High West's own bourbon & rye whiskey oak casks. 12% abv;
$8.50 (9oz)
107. Epic - Big Bad Baptist Chocolate Mint (2021)
Imperial Stout - 12% ABV - Salt Lake City, UT
A cacophony of flavors assault the tongue as this whiskey barrel-aged Imperial Stout boasts wave after wave of coffee, cocoa and fresh mint.
$9.50 (9oz)
109. Founders - KBS Maple Mackinac Fudge (2020)
Bourbon Barrel stout - 11% ABV - Grand Rapids, MI
How do you take a cave-aged bourbon barrel Imperial Stout that is brewed with coffee and chocolate to the next level? Adding authentic Mackinac fudge and real maple syrup is a good start. 
$11.00 (9oz)
108. Deschutes - Black Butte XXXI (2019)
Porter - 12.2% ABV - Bend, OR
A bigger version of their signature Black Butte Porter, brewed with cold brew coffee, Dutch cocoa and a touch of cardamom to give it Turkish coffee vibes. Aged in bourbon barrels, of course.
$8.50 (9oz)
110. Martin House - Colombiana (2021)
Imperial Stout - 13% ABV - Fort Worth, TX
An intense Imperial Stout aged for 5 months in rum barrels with a subtle kiss of cherries and coconut.
$8.50 (9oz)
188. Odell - Friek (2021)
Barrel-Aged Sour - 6.9% ABV - Salt Lake City, UT
Extremely complex oak barrel-aged sour ale that blends a Kriek (cherry sour) and a Framboise (raspberry sour).
$10.00 (9oz)
3. Jester King - Das Überkind (2020)
Saison - 6.5% ABV - Austin, TX
Funk and tartness abound in this dry, golden vieille (old/aged) saison; aged for months in oak barrels. Unfiltered, unpasteurized and naturally carbonated through re-fermentation in the keg.
$11.50 (9oz)
Friday 2/11
3PM - 6PM - Jean-Pierre and The Zydeco Angels
7PM - 10PM; Chanson et Soulard
Saturday 2/12
12PM - 2PM Boss Street Brass Band
3PM - 6PM Jean-Pierre and The Zydeco Angels
7:00 PM - 9:30 PM Dead Music Capital Band
Sunday 2/13 
10AM - 1PM Boss Street Brass Band
2PM - 5PM Urban Achievers